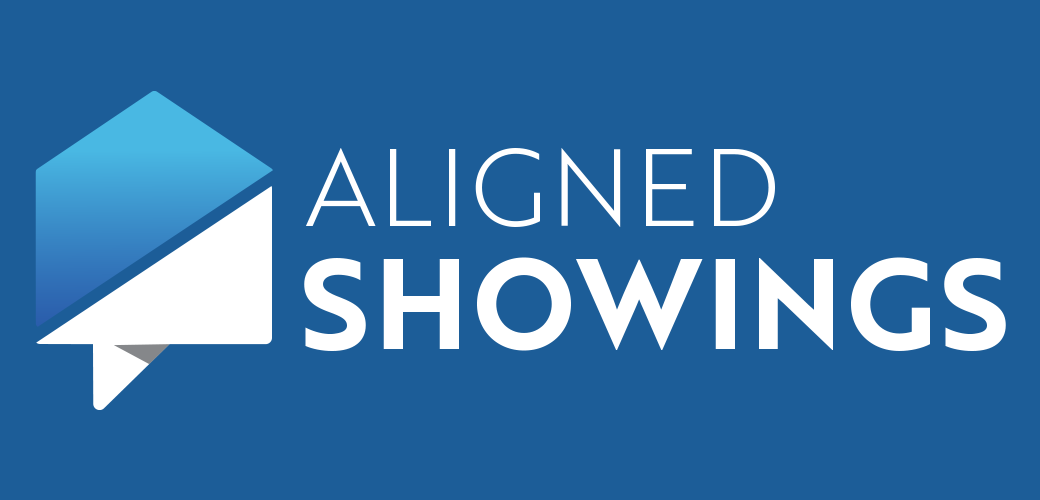 Aligned Showings + RMLS = Scheduling Made Easy
Aligned Showings offers REALTORS® a simplified experience when scheduling listing appointments.
Aligned Showings + RMLS = Scheduling Made Easy
Through its user-friendly interface, agents can efficiently handle showings and access vital information with convenience and speed.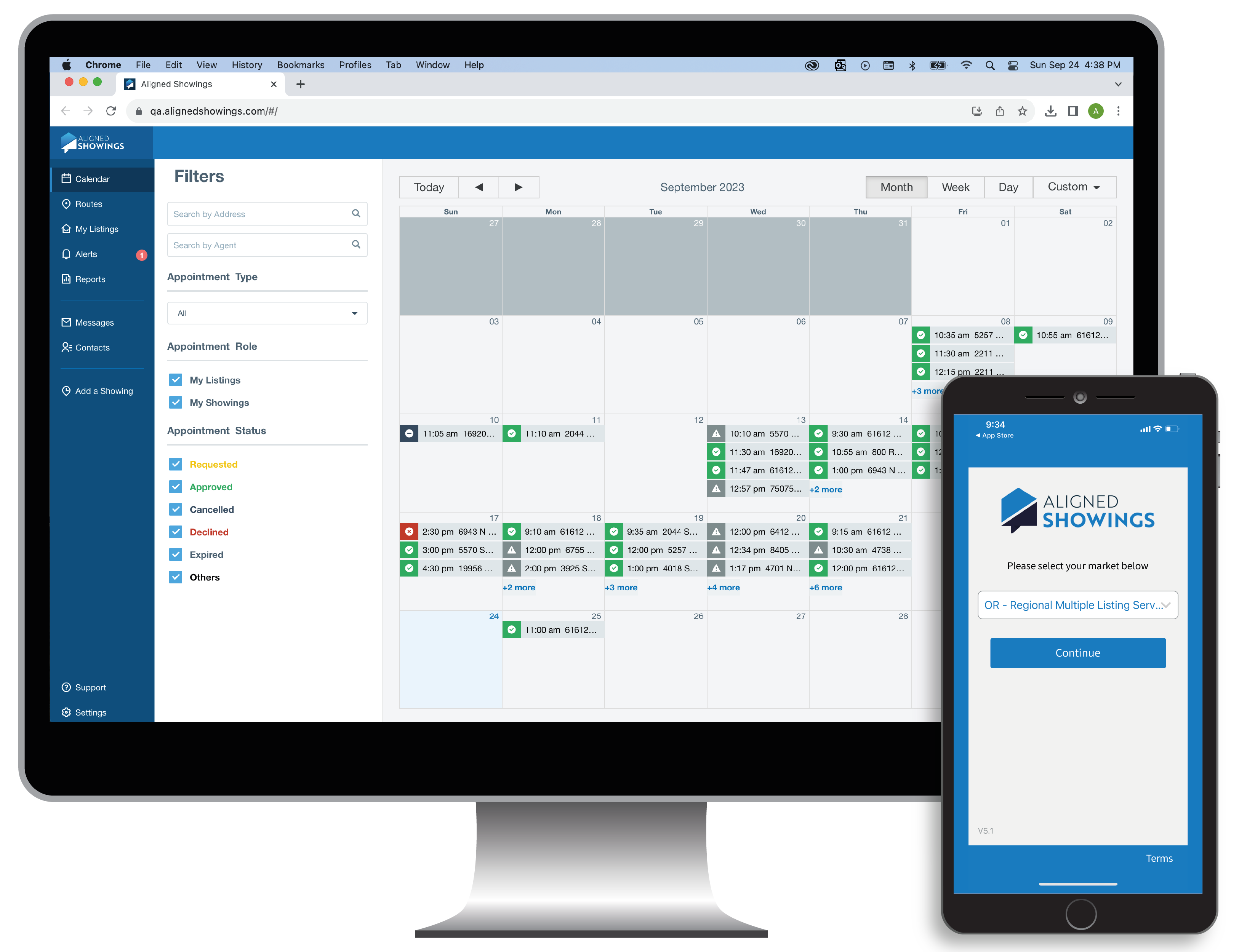 What Aligned Showings Offers
Aligned Showings is a premier showings and messaging platform that enables real estate professionals to communicate and schedule showings for free with an RMLS subscription. Aligned Showings, owned and operated by the MLS-owned collective MLS Aligned, prioritizes the needs of agents and clients.
Leverage the true potential of showings with Aligned Showings.
Advance Showing Options
Seller scheduling approval
Customized team settings
Instant messaging
Responsive Mapping
Fastest route determination
Add non-MLS listing stops
Simple re-ordering & sharing
Past route history
Calendar Options
Multiple views
External calendar syncing
Drag-and-drop functionality
Fast Communication
In-app messaging
Rapid client conversations
Broadcast follow-up notices
Read receipts & searchability
Customized Feedback
Create custom feedback surveys
Request & Receipt notifications
Feedback nudging (on demand)*
*Coming Soon
And Much MORE...
Team management
Mobile app
Robust analytics
Attractive interface
Our support team is prepared to assist you via phone, chat, or email. Training classes, online videos, and guides are available to ensure you have all the resources you need for a seamless learning experience.
Training
Sign up for a 1:1 or group class
Why are we adding a new showing platform?
Aligned Showings offers an outstanding array of features that will continue to expand. This platform was built by a collective of MLSs, including RMLS, with the needs of real estate professionals in mind. We leveraged decades of experience in serving agent needs to craft a product we believe will make an impressive, reliable tool for our subscribers. As an MLS-owned product, we are able to offer complimentary use of Aligned Showings to all RMLS subscribers.
Is ShowingTime going to be offered in addition to Aligned Showings?
While Aligned Showings will be the default showing platform within RMLSweb, ShowingTime will still be accessible for a limited transitory period. When we determine that subscribers have had sufficient time to learn and use Aligned Showings, it will become the exclusive showing product within RMLSweb.
Is Aligned Showings the default showing platform?
Yes. By default, new listings are set to use Aligned Showings as the showing platform. To switch to ShowingTime for a listing, you must select it in List Load.
(!) Please note that ShowingTime will be discontinued on RMLSweb at some point in the near future after a transition period. RMLS will provide advance notice of this change.
Can Aligned Showings and ShowingTime both be used for a listing?
Listing Agents should select either Aligned Showings and ShowingTime for a listing — it is not possible to use both at the same time. Buyer's Agents need to use the same showing platform that the Listing Agent selects for the particular listing.
Will Aligned Showings replace ShowingTime?
Yes, we will be removing ShowingTime from our system after an initial introductory period for Aligned Showings. We want to allow our subscribers time to learn and transition to this new platform, so this will not be happening immediately, but we encourage subscribers to familiarize themselves with Aligned Showings as soon as possible to prepare for the transition.
Will Aligned Showings be integrated into RMLSweb?
Yes, Aligned Showings will be fully integrated into RMLSweb, mirroring the current accessibility and placement of ShowingTime within the system.
What will happen to listings already scheduled for showings with ShowingTime?
The showings you already have scheduled will not be affected. They will remain in ShowingTime. New listings will have Aligned Showings set as the default service.
How can I access Aligned Showings?
There are multiple ways to access Aligned Showings.
The first time you access the site subscribers will be prompted to select Regional Multiple Listing Service as your market. You can then use your RMLSweb credentials to login. From there you can read and agree to an End-User Agreement, and then you're ready to start using the system.
Can multiple showing platforms be used for one listing?
No, a single property cannot allow showing appointments in both showing systems at the same time. Listing Agents must choose their preferred showing system in the listing details. Buyer's Agents will need to use the system selected by the Listing Agent.
Does RMLS have training classes for Aligned Showings
Yes, you can find a brand-new class, Aligned Showings Overview, on the Training Registration page on RMLSweb.
If you need assistance, please contact our Help Desk at 503.872.8002 or helpdesk@rmls.com.
Is Aligned Showings integrated with SentriLock?
At this time Aligned Showings isn't integrated with the SentriLock or other lockbox systems.
Why am I unable to find an address or MLS number in Aligned Showings?
You should verify the showing instructions arranged for the property. If the property is set up for appointment showings through ShowingTime, you must schedule the showing using ShowingTime.
Why do I only see Aligned Showings as an option in Listing Load?
The default setting for showings is for Aligned Showings. To change to a listing to ShowingTime, you must select ShowingTime as your preference when adding a listing.
What are the default settings for listings?
The "allow property to be shown" default setting will be Yes / Enabled for all active listings. 
The "allow overlapping appointment" default setting will be No for all active listings.
Which email address will messages be sent from?
Messages will come from noreply@alignedshowings.com. Be sure to remind clients to safelist this address, and to check their spam folders if they do not see the messages in their inboxes.
Can offices set a default feedback form?
An office can create a custom feedback form to use, however, it would need to be the chosen custom feedback form for each listing.
Will dual licensed agents have to log out and back in for their respective states?
Currently the Aligned Showings App works like RMLSweb, where you need to log into the region that you would like to work.
Does Aligned Showings show RESO status?
Aligned Showings does use RESO statuses.
How do feedback surveys function?
Feedback survey questions are limited to 260 characters each. They can only be viewed within the Messages platform. It is not currently possible to view all feedback for a listing on one page. 
Notifications are sent to the listing agent when feedback is received. Currently there is no resend option available.
How do text / SMS messages work?
Messages are not automatically deleted. They can be manually deleted.
There is no opt-in option for text messages. Clients are contractually represented by their agent, so the same guidelines governing typical consumer messaging signups do not apply.
Property sellers can opt out of email notifications by using the provided link. The agent can check that icon for that seller to receive messages again, but if the seller reports that email, our email vendor will block any messages going to that seller.
Messages can be exported to PDF by using the Print action and then Save as PDF.
Can Routes use MLS #s?
Not at this time. Routes require selecting the listing or entering an address.
What do the colors for Alerts indicate?
Red is an alert that hasn't been read and gray indicates that it has been read. 
What field is bathrooms or bedrooms displaying (the total number or the RMLS full / partial number)?
Currently it is showing the total number. However, we are working to adjust it to match the RMLS full / partial number.  
What do auction listings list in the price field?
The price for auctions will be set as 0. Currently it is appearing in front of the text on the line below but this issue is in the process of being corrected.
How many times can I send out a Broadcast reminder?
You can only send one broadcast message per listing to the agents that have approved or pending showing requests for your listing. This is a useful tool to let showing agents know if something has changed with the listing that might be of interest to their clients such a price or feature change, or as a notice such as accepting final offers on the listing.
Do I need to allow pop-ups?
If you have a pop-up blocker enabled, please disable it for full use of Aligned Showings.
Looking for a training video or document?
Explore our library of video tutorials and PDF training materials for comprehensive assistance with Aligned Showings. If you can't locate the information you're looking for, our dedicated Help Desk is at your service.
How To: Get Started
Learn how to access and set up your profile. 
How To: Add a Showing
Learn how to set up a showing.
How To: Use Routes & Reports
Learn how to use the route function to create your optimal transportation path and how to leverage analytics with your report options. 
Aligned Showings Overview Class
This overview class provides walkthrough of all the key features and functions within Aligned Showings.