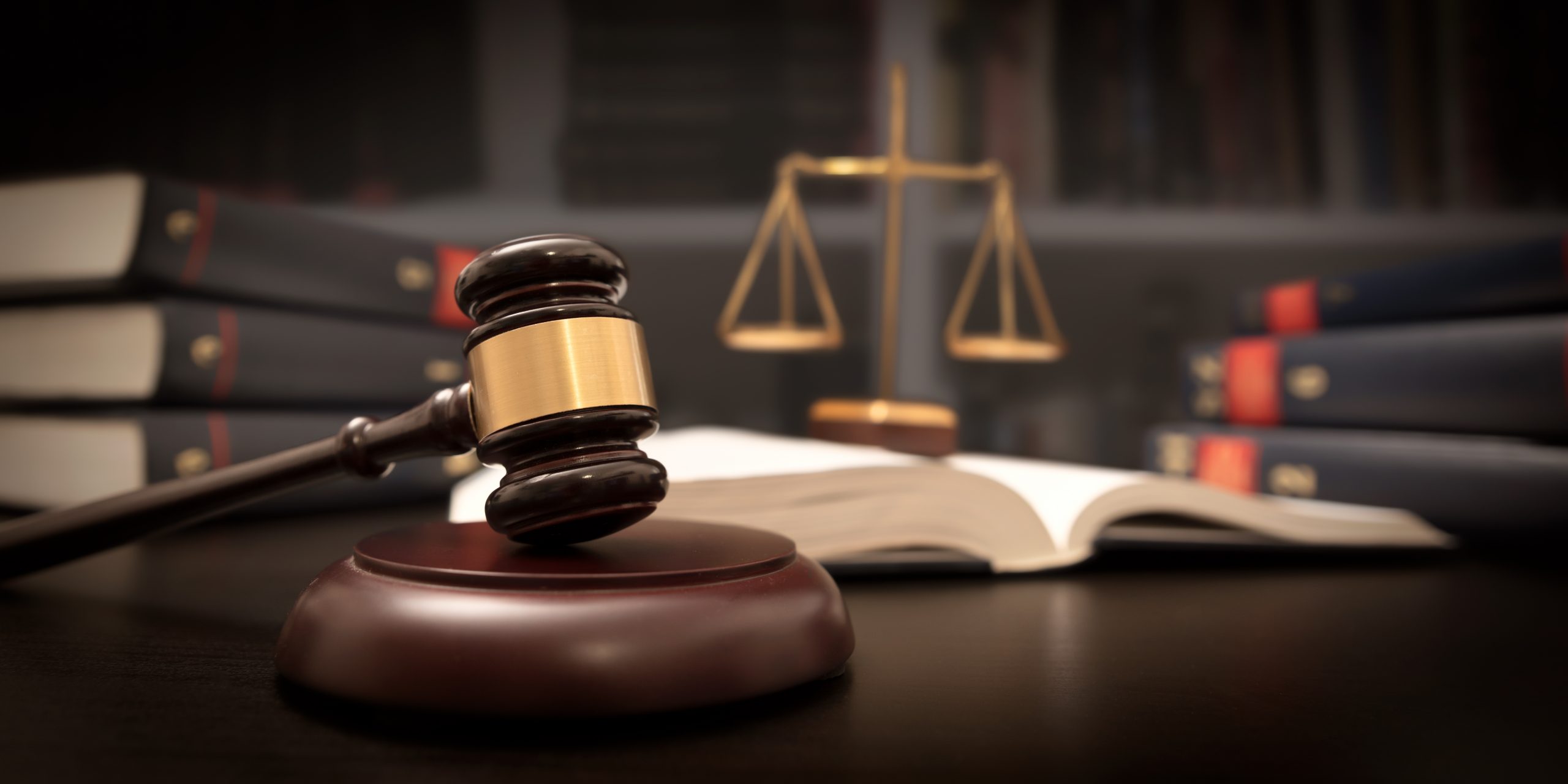 The Rules Roundup provides a monthly accounting of RMLS rules violations and courtesy notifications. Our Data Accuracy team manages all reports of property listing errors, tracking 34 specific issues outlined in the RMLS Rules and Regulations, and is responsible for addressing subscriber questions and concerns regarding listing accuracy.
HIGHLIGHTS
Recently the RMLS Board of Directors voted to approve recommended changes from the Rules Committee. These changes will officially go into effect on March 13, 2023. Regarding the changes effecting Rules and Regulations section 3.8, current violations that will be officially allowed as of March 13 will not generate notifications between now and the date of implementation. The specific redline and changes to this rule are as follows:
3.8 Photographs. Listing Brokers may submit photographs for all listings to be Published in the RMLS System. The photographs are to be submitted without any added text or graphics, or any alterations that misrepresent the property.  Photographs shall not include people, copyrighted material, identifying or promotional information, names or locations of private entities and/or businesses, Fair Housing violations or alterations that misrepresent the property. Alterations to photographs to reflect lot lines, road names, arrows identifying the property and the names of public amenities shall be allowed so long as they are not misleading or otherwise in violation of this Rule. RMLS expressly reserves the right to deny usage of photographs that do not conform to RMLS Rules and Regulations. If there is virtual staging in any of the photographs it must be disclosed on the photograph with the "Virtually Staged" watermark. If Residential new construction has a photograph of a similar home it must be disclosed on the photograph with the "Sample Image" watermark. The first photograph of a listing in Coming Soon-No Showing status will be watermarked as "Coming Soon-No Showings".
FORMAL VIOLATIONS
The RMLS Rules and Regulations Committee reviews all formal complaints which allege a violation of the RMLS Rules and Regulations. The committee has the power to impose sanctions.
The committee did not review any cases in January of 2023.
INFORMAL VIOLATIONS
Listings missing Tax ID information are typically the top informal violation within RMLSweb. Recently this rule has been edited to exclude Proposed and Under Construction property types. Because of this, there was a drop in the number of violations and now we are seeing Listings Set to Expire as the top violation for January 2023.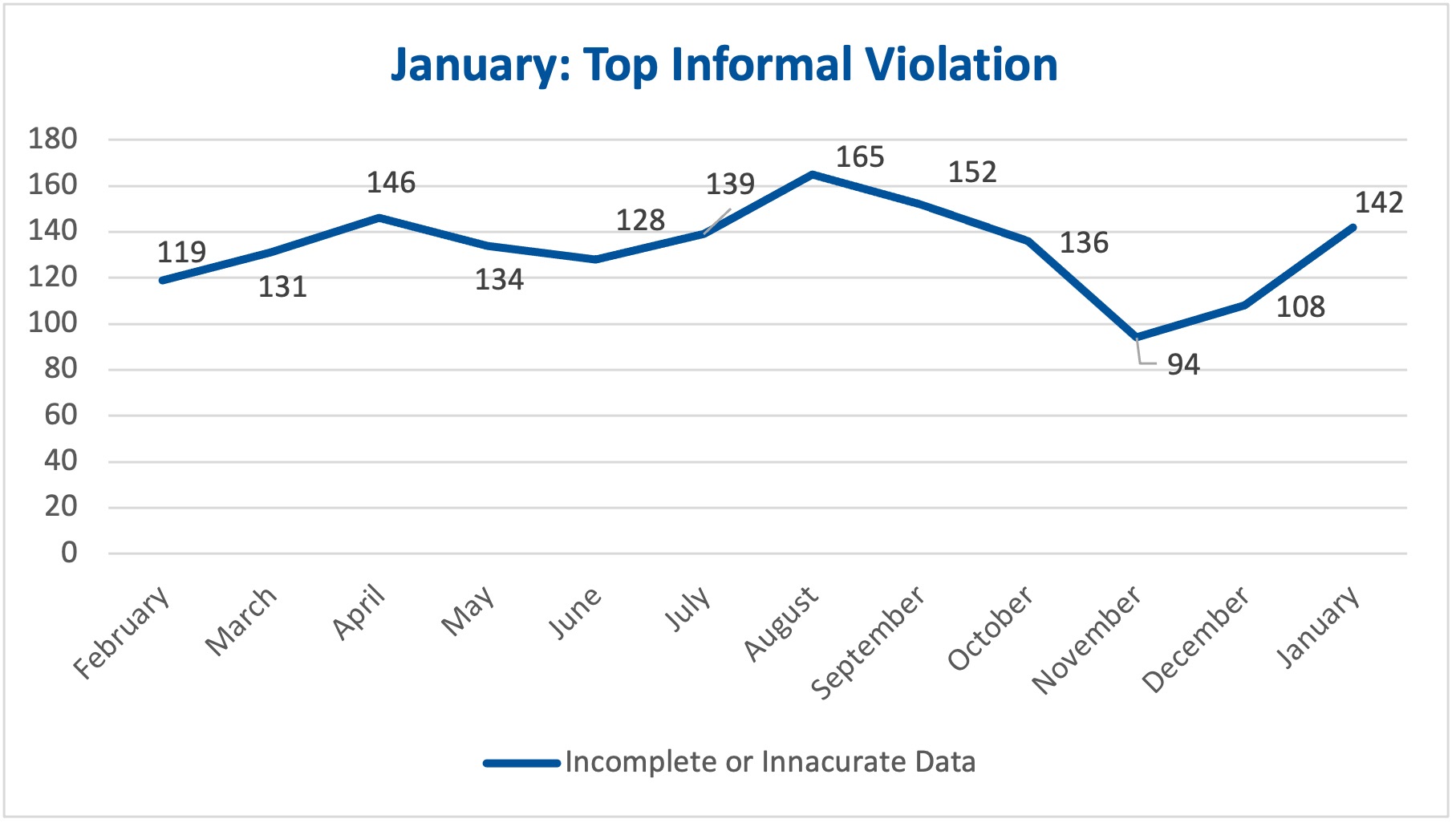 The chart below shows the next three most frequent informal violations from January 2023. This month we saw a dramatic spike for Unauthorized Text in Photos, making it the fourth-most violated category.
This pie chart shows the remainder of the informal violations last month.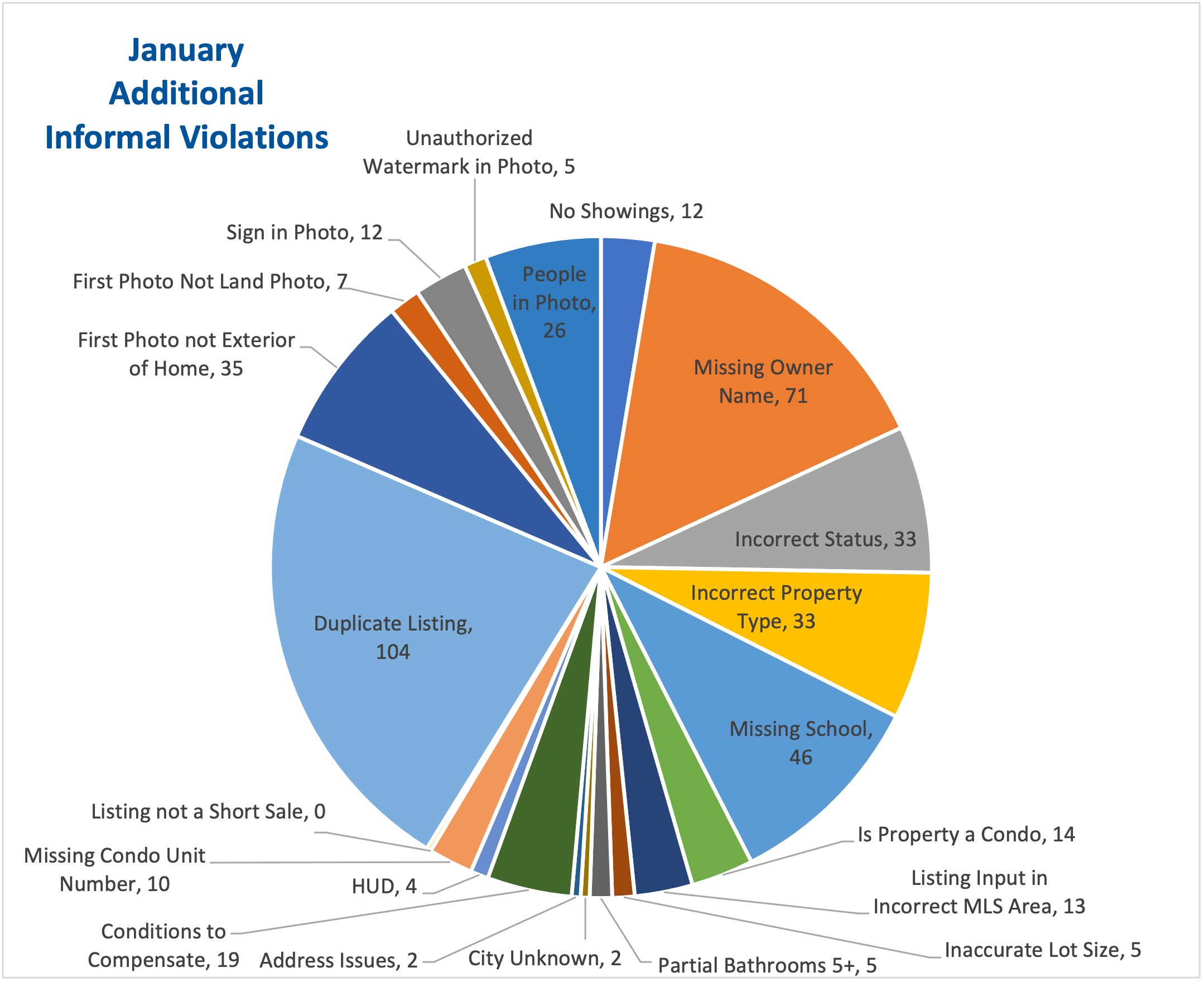 Data Accuracy Department Statistics 
Listings Reviewed: 21,750
Notices Sent: 1,807
Violation Notices Received: 323
Courtesy Notices Sent: 829
Phone Calls Received: 359
How to Report Violations
Subscribers have multiple options to report violations, including a Report Issue button on every RMLSweb listing. Subscribers can email our Data Accuracy team at dataaccuracy@rmls.com or call them at 503.395.1916. When there are increases in specific violation types, we sometimes place notifications on RMLSweb.